Remote Support requires a computer with an active internet connection, in order to access your computer desktop and perform needed repairs.
If you cannot connect to the internet we may be able to help you by means of remote support to another computer connected to the internet, or by phone giving instructions as to how to repair your internet connection so that we can enable remote support.
Our free 15 minute session is added to your paid session, so you actually get 1 hour for $40. If the session is less than 15 minutes, IT"S FREE!
If you pay below, we will contact you within 24 hours. If you wish you can also Make an Appointment.
A 15 minute session will allow time to assess what is needed to fix your computer, or provide training on one or two small issues.
Many minor issues can be solved in 45 minutes or less. This would include help setting up programs or minor updates.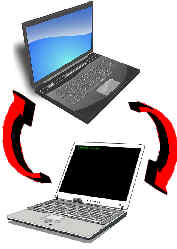 However if a computer hasn't been updated for a while or has viruses that need to be cleared out, this can take considerably longer. It would involve using programs to find viruses or allowing updates to take place. Even if this requires a connection to your computer for several hours, the maximum charge will be $75, as it allows us to care for other matters while the processes are doing their work. A one time session that addresses all issues will leave you with a PC that is working well and will require shorter maintenance periods in the future. An annual unlimited support option is also available.
The following rates apply to Remote Support.
$40 – up to 45 minutes (minimum for an appointment)
$75 – Unlimited Session
All payments are made through Paypal's secure site.
Learn about Paypal.
Return to "Make an Appointment"