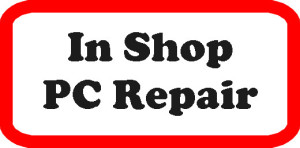 Computer Repair and Tune up
In Shop computer repair – $25 minimum charge to provide repair estimate, payable when leaving computer for estimate. If repairs are made estimate cost will be applied to payment for service. No repairs will be made until cost of repair is approved by owner.
– includes applying all updates, finding and removing any malware or viruses, check system security.
NOTE: If additional security software is required, charges may apply for purchase.
All in shop repairs will be made after cost of repair including parts has been determined and agreed to by customer.
If repairs are not made the computer may be returned to the customer.
If it cannot be repaired or is not worth repairing, the computer may left with  MYPCsupport.ca for recycling, in which case the $25 repair estimate will be returned.
No computers and/or peripherals will be released to customer until all fees are paid. Payments may be cash, certified cheque, bank e-transfer, money order or PayPal (Visa, MasterCard, or American Express).
Pick up charge $10 -St. Stephen
Delivery charge $10 -St. Stephen
Beyond St. Stephen please contact us.
Manufacturers warranty will apply to new parts supplied and installed by MYPCsupport.ca and will be replaced without labour charge if defective.
Used parts are supplied as is, with no warranty as regards cost of parts or labour.
Our services include:
Hard drive data recovery after crash
Backup to external drive
Laptop overheating – may be due to a poorly seated processor, which can happen over time. Other causes may be dust in the cooling fan, or a hard drive which is working poorly. Such overheating will shorten the life of the related components.
Install new software.
Update or install anti-virus and malware scanner.
Clean up temporary files, and optimize registry.
Remove unwanted or no longer used programs.
Optimize start up time.
We may install or use the following free programs to repair your computer:
Ccleaner
Malwarebytes
AVG Free
Speccy (System information tool)