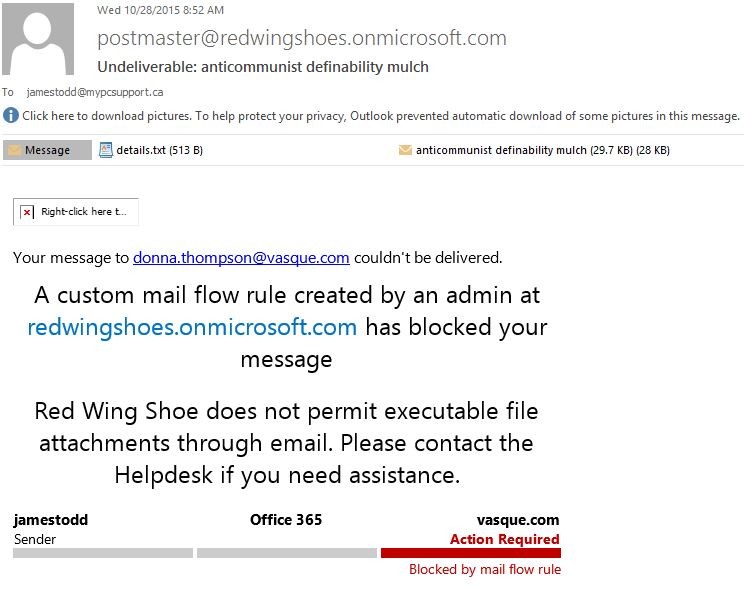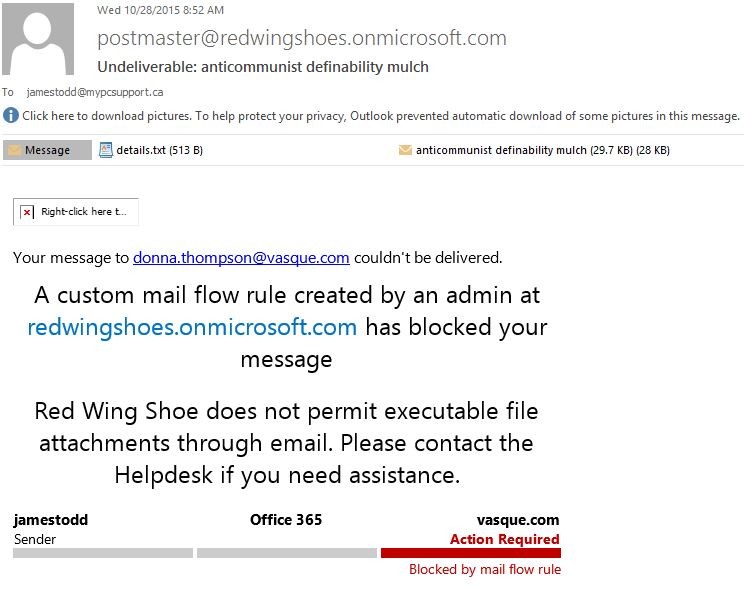 Why was it marked Undeliverable?
You typed in the address wrong
the email address has been deleted
the person's mailbox is full
their server is down
When you get it returned to you marked "Undeliverable", it will have a long set of details from the "postmaster" on the server. You will need to check the address or wait for the person to make some space in their mailbox.
However, this is being used to send spam and phishing emails.
The images here are of an email I received that I supposedly sent and has been returned.
Why this is fake!
The postmaster address is fake. I checked and the website doesn't exist.
I didn't send anything to redwingshoes.onmicrosoft.com or vasque.com
It has weird attachment names – What in the world is "anticommunist definability mulch"? I probably don't want to know.
It is full of useless information about how to fix the problem.
They simply want you to either reply or click on the attachments.
DON'T DO IT.
What to do.
Delete the message. Then remove it from your deleted folder if possible.

Don't
Open any attachments.
Click to download images if they have been blocked.
Reply to the message.
Send an email to anyone in the message.
Forward to anyone.
Email safety
Check out these links regarding safe and secure email practices.
http://www.securingthehuman.org/newsletters/ouch/issues/OUCH-201407_en.pdf
https://www.securingthehuman.org/newsletters/ouch/issues/OUCH-201302_en.pdf
View the full text version of the email I received: Undeliverable text version